2015 new design 20'x20' with sidewalls outdoor winter party tent square marquee tent
Product Description
1. Product Pictures of marquee tent 20'x20' with sidewalls
2. Product Description of marquee tent 20'x20' with sidewalls
Our marquee tent is popular in Europe, Americas, Africa, SQUARE MARQUEE TENT is the most users prefer MARQUEE TENT.
1. We use radians cutting techniques, graceful appearance. Secondly, through the use of high-quality PVC material fire detection, fire safety standards of NFPA-701 to reach the Americas and Europe, M2, high-strength aluminum alloy tube stents are HEAVY-DUTY ANODIZED ALUMINUM TUBES anodized.
2. This little MARQUEE TENT components, simple installation, a person will be able to complete the installation, easy to use, significantly saving on labor costs, to solve the problem of expensive labor,
3. size varied: 10'x10 ', 4x4m, 15'x15', 5x5m, 20'x20 ', 30'x30'
4. We provide different colors to meet different needs, conventional COLOR: WHITE, RED, GREEN, BLUE, BLACK AND SO ON. We can be customized according to customer special material requirements; different colors can splice different graphics. Guests can also request a printed different LOGO.
5. In order to better close to nature, feel the blue sky under the sun, we also provide a transparent marquee tent.
6. suitable for a variety of birthday parties, weddings, celebration events and other activities. Upon request, we have designed a Cenarion countries and Ghana's national flag colors to participate in a large tent for the National Day celebrations
3. Any sizes for you to choose
-marquee tent square style 10'x10', 4x4m, 15'x15', 5x5m, 20'x20'
-marquee tent rectangle style 10'x20', 4x8m, 15'x30', 5x10m, 20'x40'
-marquee tent hexagonal style 10'x10'x10', 4x4x4m, 15'x15'x15', 5x5x5m, 20'x20'x20'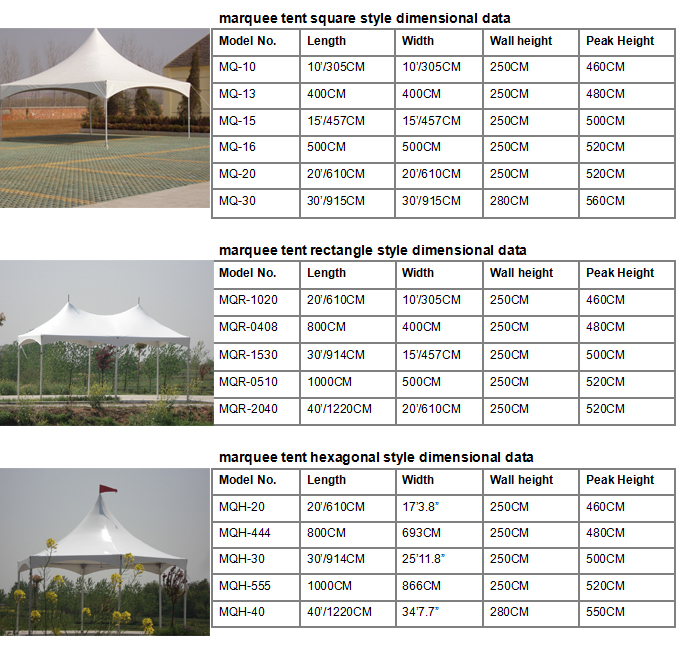 4. Our Packaging